28 October 2018 — 01 April 2019
Arkhaia
Sometimes I feel that my work as a makeup artist and my 'other' work as a craft and design consultant couldn't be further removed from each other ….and then other times they collide in such a way it's unbelievable.
I had the absolute honour of meeting George Dempsey ( Mojo Creations) some years ago when I was facilitating a new product development programme for new designers. George is an amazing talented graphic designer and in his own words a "maker of Magic" in the world of origami.He's a super talented guy who met the love of his life Alan a few years ago…. Needless to say when George (who is now also a very good friend) announced their engagement I was thrilled but also knew this "maker of Magic" was going to have the most spectacular wedding – a wonderland of paper sculptures and origami!
I can't say how delghted I was to spend the morning with George and Alan albeit moving swiftly from George and Alan's delightful home to Alan's Mum, Teresa's house to beautify her and the beautiful Anna.
Everything from the invites, buttonholes, floral bouquets to the table settings where created by his amazing imagination and creative hands.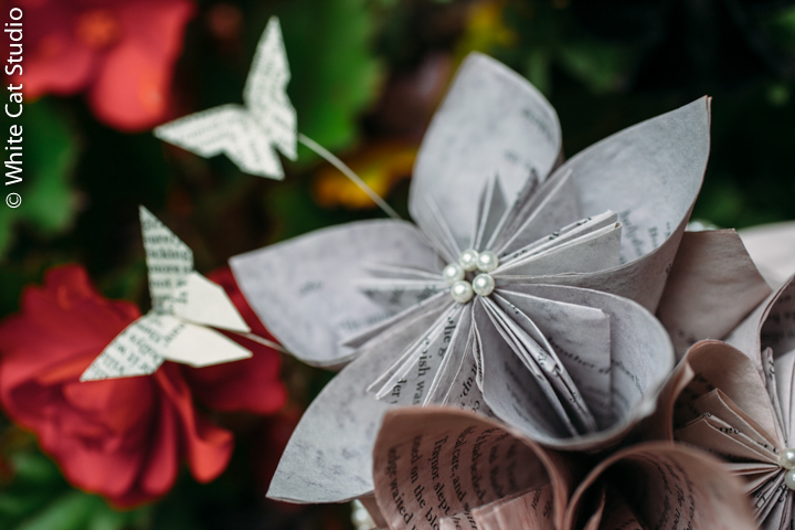 I can only say it was a very special morning and thanks George & Alan for having me as the make up Artist for you 'groomsmaids'! Thanks also for your lovely testimonial.
Testimonial
In celebrating our civil partnership we wanted to create an experience for our family & friends, to celebrate our union and love in way that included everyone. As well as thinking of our guests we wanted to make sure those closest to us – our 'groomal party' were given the same extra attention to detail that every aspect of our wedding had received.
Aileen was the perfect choice when it came to finding a make-up artist for our "groomsmaids". Being two guys (with great taste!) we knew what looked good but had no idea how it was all created! We wished to create a simple look, soft with pastel feel to match our colour theme and natural, but created in a way that would work for our three bridesmaids and my future mother-in-law that also complimented each individuals own tastes. For all three it was their first time to be a bridesmaid so this made it extra special for them all and so of course they all really wanted to look their best!
Instantly from the moment we first sat down for our trial we knew Aileen was the perfect make up artist to do the job. Warm, inviting and friendly we were able to plan and share our ideas with the greatest of ease, taking full advantage of her knowledge and expertise, we created the look that worked with our theme and suited all four ladies.
What really makes Aileen a great make up artist is her attention to each individual person, be it making them comfortable, putting concerns to rest or simply making them glow, Aileen made the entire experience enjoyable and each lady feel like a true lady too!
Aileen worked her magic with the greatest of ease – my sister doesn't wear make up at all, but by the end of the trial she was thrilled and again on the big day she really was converted to a fan of the wonders of make up. My mother-in-law has very sensitive skin but Aileen was able to not only do the task at hand, but give her advice and tips for her daily life! Aileen had to work with all skin types too – our other two bridesmaids had totally different complexions – one a typical Irish pale skin tone and the other a lovely Spanish tan.
Aileen was able to create a look that worked for everybody, a beautiful colour palette to match our wedding theme of lavender, light and airy and very natural, Aileen was able to give each lady that extra boost of confidence and that all important happy glow for the big day.
On what will be one of the most important days of your life, there are a million things to think of, but what is a certainty, is make sure you find a little time to think of the make-up! When you look good, you feel good, and when you feel good, it makes the day even better and make-up is just as important on the list of 'to do's' as dresses, hair or even the shoes! Without any hesitation, I would highly recommend Aileen Duffy for any couple planning their wedding, she is a star and the one to add the sparkle that will make you truly shine.