Real Weddings – Ruth & Brian
Over the past few years I've realised that most brides find they learn more from past brides who've already experienced planning their wedding.
So, I'm dedicating a section on my blog to 'Planning your Wedding  – Inspired by real Brides Experiences". Here I will feature as many of the weddings I've done and brides I've met as possible. It's a questions and answers style blog post with lots of lovely inspirational images too!
My next post in this series is "Ruth's Wedding" at The Millhouse in Slane. I've known Ruth for years and I've always admired her style and personality. I was so thrilled when she met Brian – when I met them together for the first time I knew they were made for each other. Ruth has this amazing unique style and I know you will love her wedding story. It's taken me a while to get to sit down and do this blog post and I have really enjoyed all of the memories of the day whilst I've been working on this. Hope you all enjoy as much as I have!
Aileen xxx
How did you meet Brian?
I had always known Brian to see but we officially met in 2009.  I was working a few hours after my day job in a local pub to save some money to go travelling. Brian was there one evening and I spent more time talking with Brian than I did serving customers. Needless to say, I didn't last too long in that job!
We then met again the night before I went travelling, I was out with a friend of mine and we got chatting for a while. I never mentioned that I was going travelling the next day as I didn't think it was relevant. I had no idea he was interested in me.
So I travelled the world and along the way got word that he was interested in me and he couldn't believe I had disappeared for six months without saying anything!  
Two weeks after coming home from my 6 month trip we got together….
Tell us a little bit about the engagement ….
We had looked at rings in Galway a month or two before Brian officially proposed, I thought he would propose on a trip to London we had planned that month so I had picked out a gorgeous dress to wear on the weekend away! But Brian had other plans and got down on one knee on a walk one very hungover Sunday morning!  It was a fab surprise, and it is hard to surprise me!
How did you choose your engagement ring?
I love vintage style jewellery, so I knew the ring had to be antique looking. We visited Lazlo in Galway and tried on numerous rings, none suited me. I liked elements of all of the rings but not one exactly.
The lady in the store suggested getting one made so I took the risk.  It paid off, the ring was exactly what I was looking for.
Did you choose your wedding ring at the same time and tell us a little bit about choosing that?
It had taken a while to find the perfect engagement ring, so I held off on choosing the wedding band until closer to the wedding day.  I had every faith in Lazlo's as they had made the perfect engagement ring for me, I wasn't too worried about the band.  It works well with the engagement ring.
Tell us a little bit about your experience choosing the church or if you decided on a civil ceremony, humanist etc tell us a little about that?
We had both decided from very early that we wanted a nontraditional wedding. We looked at having a civil ceremony, but we still wanted to have an element of spirituality to the ceremony. Someone had recommended a Celtic Monk from the Aran Islands  His name was Dara Molloy.
He was very easygoing and open to having elements of religion incorporated into our day. This was important for both of us as our parents would have appreciated this, and also my Grandfather is Christian so it was lovely for him to be able to do a reading from the Bible.
The ceremony was very relaxed, informal, and intimate. It was very interactive with all of our guests. We had a fabulous opportunity of tying the knot around both our hands.  We both loved it and our guests appreciated something different on the day.
Did the 'theme' of your wedding influence the venue you chose?
Yes, I loved the idea of a rustic, relaxed theme with the vintage element of course!  We chose the Mill House in Slane Co Meath, and it was just perfect for our day.   Our family and friends loved the easiness of the venue, and the fact that it was exclusively ours for the day and night was extra special. The staff in the Mill house are excellent and allowed us to make it our own for the day.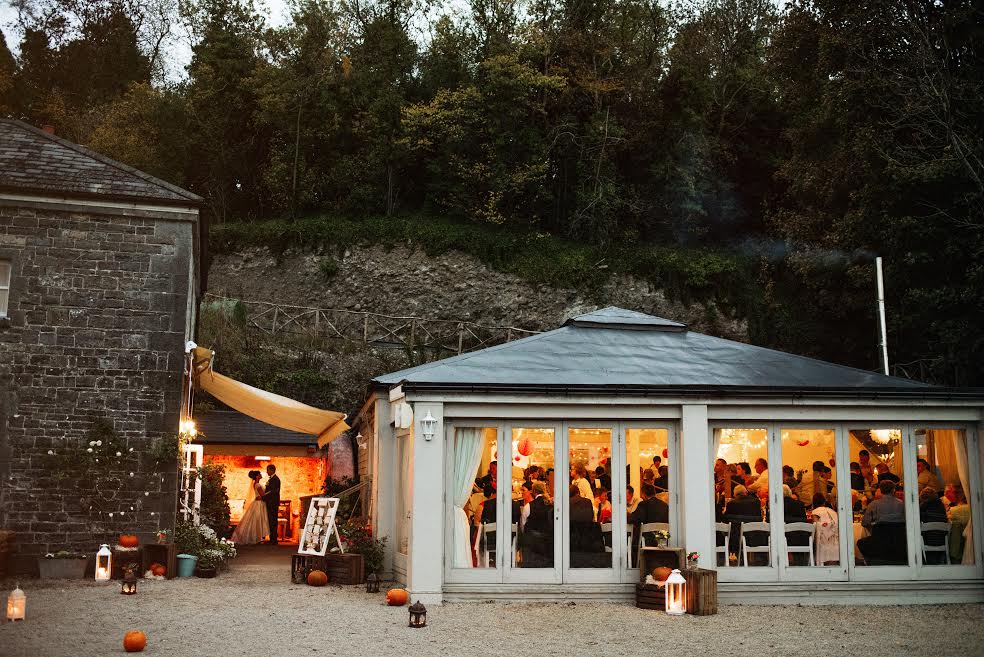 Did you style it yourself or hire a professional?
I had to do very little in terms of decorating the venue.  The Millhouse is perfect as it is, but we did get married at the end of October. Halloween is my favourite time of year so we had pumpkins and cobwebs and broomsticks scattered around everywhere! 
We want all the details on your dress, from shopping to choosing to purchasing to alterations?
For my dress, I had wanted a vintage gown.  I searched online and a lot of vintage tea-length dresses were fabulous but didn't want to order a dress without trying it on first!
I had visited a vintage store in Dublin called The Goddess Room, which specialised in Bridal Wear,  I went on my own and tried on a 1950's Priscilla of Boston gown.   The condition of the dress was perfect considering it was over sixty years old.  It was Thai silk with a lace bodice but I wanted it altered to a certain style I had in mind. 
I completely changed the dress and had numerous fittings over a couple of months until it was exactly the way I wanted it.  
How did you choose the jewellery you wore on the day?
Because there was a lot going on with the dress, I wanted to keep jewellery to a minimum.  I wore a pair of Ti Sento earrings that I had my eye on for ages, they worked perfectly with the style of the gown.
And your Shoes….
The shoes… because I went with a graduated Tea Length dress, I wanted the shoes to be extra special and to be my something blue.   I found a blue peep-toe shoe that were a limited edition with Rachel Simpson Bridal Shoes. They were just perfect and were a nice little surprise on the day. 
Lets not forget the boys! How did they choose what they wore on the day?
My sister-in-law Edel has a good eye for male fashion, so I left the styling of the men to her and Brian!  I wasn't disappointed.  They got their suits in Galvins for Men. They needed suits that would tie in with the vintage theme. 
Tell us about your hairdresser …..
My cousin Bianca has done my hair since I was 7! And we are super close so I obviously asked her to do my hair on the day.   She had a little help as there were a good number of us including bridesmaids.  Another friend of mine Anita Cassells from Koko hair also assisted with hair styling.  And the styles really suited the vintage theme.
For my hair I wanted a dramatic bun- Audrey Hepburn is one of my style icons so I had a look at some of her classic hairstyles and went with something similar!
Any tips for brides regarding choosing hairstyles?
Tips would be to go with a style that suits you. And follow through with hair trials they are so important.   I love an up style on a bride its easy and comfortable all-day
Tell us about your photographer….
Our photographer was Dave McClelland. My make-up artist (Aileen!) had recommended him from her sister's wedding. We had both wanted a photographer that captured natural moments. Neither of us wanted to pose for photos all day. We wanted our guests captured more than us. We contacted Dave through his website and he came back with all the information we needed.
He also does something very special with the bride and groom on the day, away from everyone and very private. For myself and Brian, it was our favourite moment of just the two of us together. He was so obliging and felt like I had an extra bridesmaid on the day.  He carried my bouquet, fixed my veil, and kept myself and Brian completely chilled out!
What was important to you when choosing your bridal makeup artist?
When choosing my makeup, it was important that I still looked like me! I wanted a natural dewy look and something that would last all day without topping up.
My Mam is very fussy with make-up and does not wear a huge amount of it, so I wanted someone who would respect that and not cake her on the day!
Aileen was always my first choice, she had done my makeup for a few events in the past and I was never disappointed, She was so open to make-up trials and ideas.  She was happy to meet for trials until I was completely satisfied with how my makeup turned out.  I went for a red lip so we had fun trying out different colours that I could use.
Aileen is super efficient and organised, and was the first one set up on the morning of the wedding.  She just fit in with the preparations that morning and has a very calming effect.
How did you choose your bridesmaids and tell us about their dresses?
I always had my four closest friends in mind as bmaids, they were all so different in personality and style, so I wanted to portray that in their dresses.   It was difficult at times but I stuck to the idea of individual dresses.  They looked stunning and it fitted in well with the theme of the day.  I purchased their dresses on Asos online and Folkster in Dublin.   They were much cheaper than purchasing traditional bridesmaid dresses.
Anything special that you'd like to share about your bridesmaids?
The girls were great, all had their own personalities and helpful ways on the day, I would have been lost without them.
And your honeymoon?
Myself and Brian have travelled a lot over the years, so for our honeymoon we really wanted to do something very low-key.  We spent three nights in Cork, and it was fabulous.  We both love the city and stayed in Castle Town Marter and Hayfield Manor.
We'd love to hear about your flowers and what you decided upon and also who did your flowers?
I am not huge into flowers, so I wanted to keep things very minimal- I wanted more of a rustic theme and went for pumpkins, crates of hay, large candle vases, and simple autumnal flowers on the tables.  
Lorna in Room in Bloom arranged my bouquet and flowers, and she had the venue looking stunning. For my bouquet I had one giant rose- it is called a Carmen Rose. It turned out perfectly and I opted for artificial so I could keep it!  It looked very realistic,  no one would have known.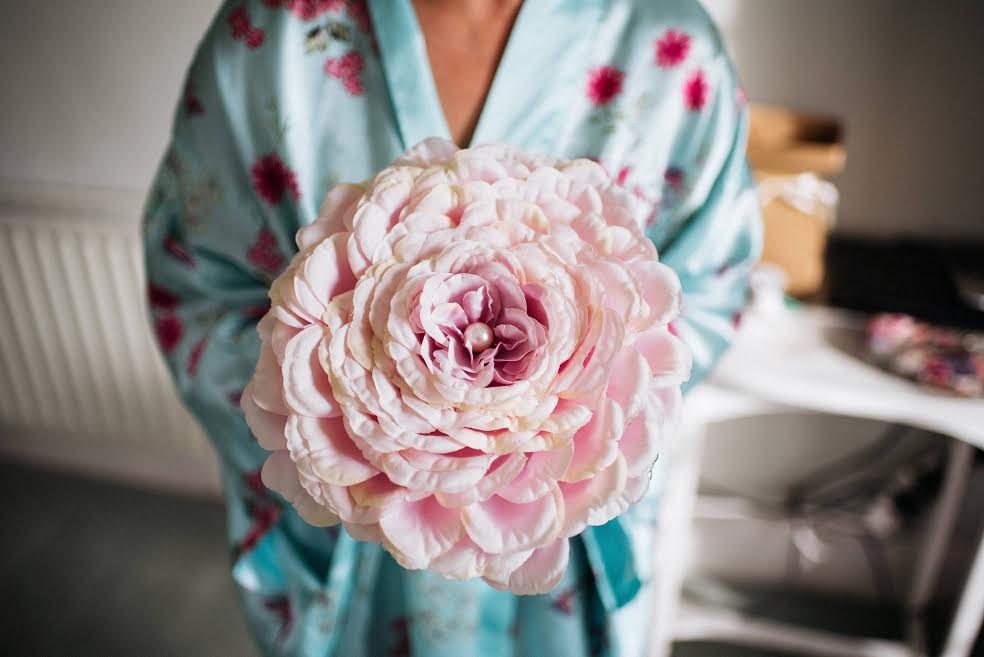 For the bridesmaids, I chose simple bunches of Baby's breath which were stunning with their dresses.  
YOUR top 5 tips brides who are currently planning their wedding
Establish what you and your partner both want on the day before opening it up to family members/friends, it really is important to do what you both want and people who are important to you will of course follow suit.

Stick to your decision- it is so easy to give in and do what everyone else is doing, but it is worth it to stick to what is really important to both of you.

Be present- take in the build-up and memories of the day,  it is just a couple of hours and it is a blur so take 10 minutes out with your partner sit back privately and watch everyone enjoy themselves.

Don't cut corners on music and photography- they are the most memorable elements of the day, don't scrimp on these two things, some other part of the wedding can take a hit along the way.

Have fun- it's a big party for the two of ye so make sure ye are enjoying it- and don't drink wine on an empty stomach!
I couldn't avoid the major downer you hit after it's all over, I was very depressed for about two weeks! but then had lots of happy memories to look back on.   Now I really appreciate people's special day, and am extra happy for my friends and family when they are getting engaged!
A good friend of mine made our cake for us, it was so beautiful.